InvestorPlace - Stock Market News, Stock Advice & Trading Tips
Cryptocurrency prices are slouching after a busy week. Most every coin and token among the top 100 is posting losses, except for one curious play that's soaring in value. Nexo (NEXO-USD) is going against the grain today with some of the most impressive gains of the week. Thanks to a grip of new product announcements and a Binance (BNBUSD) listing, it looks like investors are pouring into the NEXO crypto.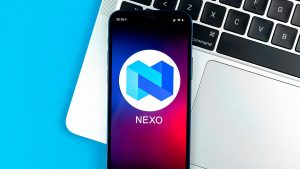 Source: FellowNeko / Shutterstock
The Nexo network is rapidly becoming an all-in-one crypto finance platform. Launched in 2018, the network is perhaps best known for its crypto-backed loan services. Since its inception, the service has issued over $6 billion in credit to customers. This success is due in large part to its very friendly features. For example, users can borrow 40 different currencies, from fiats to stablecoins to even jumpstart tokens like ApeCoin (APE-USD). Moreover, it does not task borrowers with payments schedules, high annual percentage rates (APRs) or even credit assessments.
This lending service is bringing much attention to Nexo, but so is the company's work to expand its offerings for a broader demographic. Nexo's crypto exchange is one facet of this expansion that's worth noting. Launched in early 2021, the exchange now offers more than 300 exchange pairs and even rewards its loyal customers with cash back on crypto swaps.
NEXO Crypto Wins Big Gains as Other Cryptos Sink
This month, the platform has been taking pains once again to beef up it offering to users. One way it's been doing that is through the launch of an institutional brokerage. The company is making a play to appeal more to corporations and wealthier users with its Nexo Prime exchange, rolled out in mid-April. But beyond this, there's another NEXO crypto catalyst that is getting users quite excited.
Just days after the Nexo Prime announcement, the company rolled out yet another product for all levels of users. Through a partnership with financial services giant Mastercard (NYSE:MA) it has unveiled a crypto payments card. A self-described "first-of-its-kind" payment card, people can use the product to buy goods and services using their crypto without first having to sell it. Rather, one can use up to 90% of their collateralized crypto assets' value.
And to add a cherry atop all of these rock-solid product launches, the NEXO token is listing on Binance starting today. Now, the token will have the added benefit of appearing on the largest crypto-trading floor in the world. More investors than ever will have easy access to the NEXO crypto ecosystem.
The tidal wave of optimism washing over the Nexo network has made for some gainful days in recent weeks, but none like today. As the token lands on Binance, prices are up over 25%. The price gouging comes on a massive trading volume increase; with over $139 million NEXO swapping hands, volume is up 1,100% over yesterday.
On the date of publication, Brenden Rearick did not hold (either directly or indirectly) any positions in the securities mentioned in this article. The opinions expressed in this article are those of the writer, subject to the InvestorPlace.com Publishing Guidelines.
More From InvestorPlace
The post NEXO Crypto Soars as Market Dives With Payment Card Launch and Binance Listing appeared first on InvestorPlace.